you are here : HOME » Product Guide of AUTOBACS


A car's driving quality absolutely depends on its tires. Autobacs offers a selection of the best tires from around the world to meet your exact performance and budget requirements. Whether it is the most high-performance product or the best-value one, you'll find exactly what you're looking for at AUTOBACS. We also offer a wide choice of aluminum wheels in different designs and performance specifications. The advanced wheels that we can provide are surely to satisfy you and enhance your driving security.

Tires
Wheels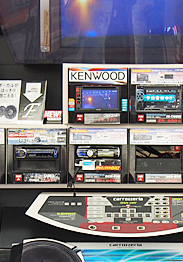 Mobile electronics have to be engineered with the high quality and reliability that meet the unique environmental conditions of a car's interior. As a Japanese company specializing in this field, we can offer a wide range of the most desirable head units, speakers, subwoofers, amplifiers, DVD players and GPS navigation systems, directly from Japan. Many affordable choices are also available. Come and experience the amazing mobile entertainment options and exciting gears on offer at our store.

We're committed to making your driving more enjoyable and comfortable. We have collected a huge assortment of useful products which you can never find anywhere else and many of these items are directly from Japan. No matter what you're looking for to enhance your driving, you will surely be able to find it in our store and also find products you have never seen. We offer a completely new car lifestyle that you can experience when you visit our store.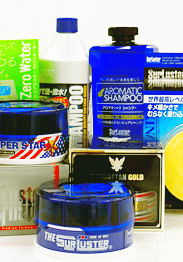 Your car means a lot to you and that's why you take care of it. We can help you maximize your car care as we are equipped with the right products, machines and tools to maintain and keep your car in tiptop condition for a long time. And if something needs attention, our outstanding servicing skills can help. We also provide high-quality oil products from Japan. Is your car having any problems? Whatever the situation might be, you can rely on Autobacs for the solution. Once you experience the quality service of Autobacs with secure and safety, we are confident that you will be convinced.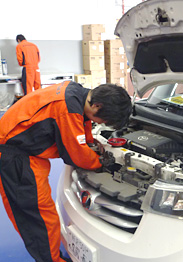 Autobacs offers periodic inspection services for your car as well as installing tires, wheels, mobile electronics and other products purchased in our store. Various pit menus, including oil changes, automatic transmission fluid changes, wheel alignment, coolant and differential fluid maintenance services are available. We are driven to be a shop you can totally rely on for your car's maintenance. Autobacs quality ensures your driving more enjoyable and confident.

Installation Service
Car Audio Systems
Navigation Systems
Tires and Wheels
Window Tinting
Lifts and Lowering Suspensions
Shocks and Struts
Alarm Systems

Interior Enhancements
Mobile Video Systems
High-performance Braking Systems
Batteries
Grilles & SUV Accessories
Lighting
Maintenance Service
Fast Oil Change
Radiator Servicing
High-tech Alignment

Rotating Tires
Differential
Transmission